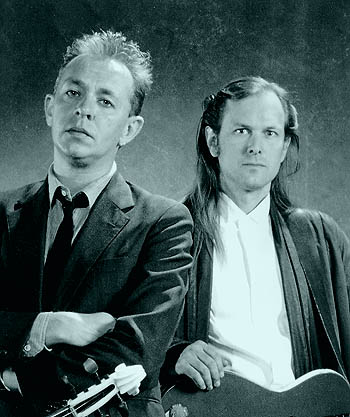 Some people get it...
Zen for Primates
discuss their evolution with Adrienne Redd

The key to Zen for Primates, if there is one, is the band's wealth of contradictions. Highly rhythmic, the band has no overt percussion. Affecting a studied ennui, it can be passionate and its languid precision offers yet another internal contrast. The music, both the original numbers and the idiosyncratic arrangments of covers is full of that which Robert Fripp says music must create and sustain, releasing it only when the musicians choose to release it - tension.
As legend has it, when lead singer, T. Roth saw guitarist Mike Krisukas perform in a club in 1987 in the Lehigh Valley in Pennsylvania, they quickly became friends and formed an eight-piece rock band, called 'The Incredible Baby Eddie," which combined T. Roth's love of music and theater.

While keeping Baby Eddie on the road, Roth and Krisukas started working with saxophonist Dave Smith and violinist Mark Golin, creating Zen for Primates. The band developed a cult following, played New York City, shot a music video, recorded "Albatross" in 1992 and essentially broke up in 1994, when its members decided to pursue individual projects.
In 1996, consideration of the band for the Warner Brothers movie, Addicted to Love, led the band back to the studio to finish and release "Blessed Are the Sheep Herders" in June 1998.

Consummate musicianship and utter originality continue to distinguish the band, which performs original soulful ballads, arrogant ditties and sarcastically strange covers. The re-assembled band is T. Roth performing vocals; Mike Krisukas on guitar and vocals; violinists Jody Beder and Simon Maurer and saxophonist and clarinetist Pete Fluck. Roth notes however, that for summer of 1998, the band has hardly performed with the same combination of musicians twice.
Amid Mike Krisukas's bare and elegant décor and mementos from the Middle East in a rowhouse in center city Allentown, Krisukas, Roth and Beder talked about the concept of the band and their affinities.

Although Roth drips ennui and almost-ugly attitude during performances (reviewers have said that his lack of a published first name - it's Terry, but he hates it - reflects his existential angst) the band members, including him, are approachable and down to earth. Krisukas adds it was not his intention to create a high-concept or oppressively hip band that does idiosyncratic covers, but he does say, "This is probably always what I wanted to do. I've been in a bunch of bands and this is pretty much the band that I was always trying to create for the last 25 years."

Of the bands lively and chromatic covers, including "Riders on the Storm," "Funky Town" and the James Brown signature, "I Feel Good," T. Roth insists, I'm making fun of [some of the songs] I'm making fun of My Sharona. I'm making fun of a Whole Lotta Love. It's stupid. ... When you finally sit down and read the lyrics I say I gotta say this with really good diction so people can realize just how dumb this is."

To this Krisukas counters, "We've always had this difference because I don't don't do them that way, not musically. I can understand [making fun of them] lyrically. To me I love the music. There's always something really interesting in the music. 'My Sharona' has one of the classic little guitar hooks. That little guitar hook is so simple and so wonderful. Blues based background and it has to be simplistic. If it's not, it's phony. It's not art anymore."

The musical deconstruction and re-invention of familiar melodies is part of the band's intense appeal. Their skill is apparent, while the music seems ad libbed at the same time. Krisukas says that the "arrangements are super specific and precise," adding "people think it is improvisional but everything is charted out."

The band's attention to detail and quality is also reflected in the choice of band members, like the cellist, Jody Beder, who is classically trained and plays with chamber orchestras, such as the Lehigh Vally Chamber Orchestra, Princeton Chamber Symphony and opera performances & recitals. She says however, "If someone asks me to do something non-classical, I've always jumped at it."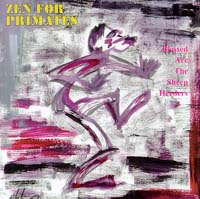 Similarly, percussion is an important focus of Zen, particularly because there is not drummer, although guitarist, Mike Krisukas calls himself "a helluva percussionist." He explains the lack of a drummer. "There's a real social thing that happens. It's hard to have drummers. They break up the band. It's a tough thing. Also, for the concept of this band, you just don't need a lot going on. Drummer always play too much and as soon as you have too many people thinking percussively, which - getting back to why I think I'm a percussionist. I think that way, so if I'm doing little bleeps and bloops on the guitar and there's somebody else playing percussion, it's usually that I'm thinking, 'stop.'"
Those bleeps and bloops can give the band an almost Spike Jones-like quality at times. And at other times, Roth's rich voice and intensity can make some numbers evoke the work of Bertold Brecht, such as The Threepenny Opera.

Although the band is larger that its original incarnation, it's still very minimalist and clean in its sound. Roth quips about the original band, "We said, 'These are the people we have. Let's start making it as noisy as we can." Krisukus adds, "The original incarnation of the band ... were all very minimalist players. We knew that and that's why we clicked."

In spite of the startling creative and excellent musicianship, Zen for Primates seems inconceivable as a group sound and concept without T. Roth, who has been compared to Neil Diamond and Jim Morrison. He drinks beers and smokes incessantly during performances (he admits to smoking four pack per day) and has deep, beautiful, husky and sneering voice and persona. Krisukas says, "It wouldn't have worked with anybody other than T. to tell you the truth. ... We needed a good technical singer."

Beder adds that cooperation among the musicians is important to the style and success of the band. "I like to think that I have [worked with singers] enough that I can pick up on what to do. I just like it. I feel that part of the object of the game in playing the cello is to be as much of a singer as possible. In opera, the cello always doubles the tenor."

Roth combines sweetness and bitterness in his delivery. As he does when performing, he puts on the hostile act, calling himself a misanthropic extrovert and adding, "We treat people like shit and they go crazy over us." He says he admires Jennifer Warrens, known for "It's the right time of the night" and the theme from Norma Rae. Another current favorite is Rufus Wainwright, son of Loudon Wainwright III. Roth adds that he admires melodic songwriters and that Randy Newman is his favorite American pop writer.

In addition to acting and singing lead for Zen for Primates, Roth had a following in New York City with an earlier band called "Just Another Pretty Face." He says, I was wild and maniacial, just the opposite of now. I never stopped moving. But once you hit 40 you look pretty silly doing that."

Both T. Roth and Mike Krisukas write songs for the group, whose current mode, because of geographical dispersion is to accept individual suggestions and contributions from separate band members. Surprisingly, Krisukas cites Harold Arlen, who wrote music for the Wizard of Oz, as one of his favorite songwriters. He also says that the Beach Boys are an important band. A sore point is the recent loss from the computer of the band's rendition of the Beach Boys cover, "Clear as a Bell. Krisukas says it was a "fantastic arrangement" which featured 16 tracks of Roth and would be nearly impossible to perform live. They are, however, considering trying it with a choir on stage.

The studio where Albatross and Sheep-Herders were recorded, is in the attic of Mike Krisukas's house and is one of the projects he pursued independently after the band broke up.

The band puts one in mind of the Mystical Knights of the Oingo Boingo with its quirky appeal and difficulty of categorization. Like that 1970s California collaboration, some of whose members have gone on to auspicious solo careers, some people got the music; some didn't. Roth growls that he would like to tour virtually, that is to say, from home, alluding to the studied laziness of one of the songs he performs. Krisukas is hoping for a European tour and still others are expecting greatness from Zen for Primates. - Adrienne Redd
---
Visit the Zen For Primates web site. It has info on the records and samples of the music available in Real Audio.

Adrienne Redd has been a freelance writer covering performing and visual arts, the environment and politics for 15 years. Since 1996, she has hosted and produced Art Beat, a ten-year-old, Ace award-winning interview series aired to six million households via the Cable Television Network in New Jersey, Pennsylvania and Delaware and via public station WYBE. Her guests have included Françoise Gilot, Arnold Newman, Barnaby Ruhe and Jessica Lenard. She is currently writing a book which profiles 30 American political activists. Entitled, A Terrible Beauty, chapters of the books can be read online.